by Amy Odell on September 9th, 2009
Rodarte's Target collection doesn't hit stores until December 20, but Target already hosted an editor's preview of the line. When images from that event leaked on Twitter, Target — which doesn't enjoy when images are leaked before they decide to release them — swiftly got them taken down from there and numerous blogs that had picked them up. But try as they might, they can't control the Internet, or the naughty editors who attended the preview, because one attendee recently put a lace blouse from the collection up for sale on eBay. According to the description, it was a gift from the event. The item only received two bids, and closed at $10.49, though you'd think it would go for an astronomical sum like past diffusion-line items to hit the site did. (The full collection ranges from $9.99 for knee-highs to $79.99 for a leopard-print jacket, so it really should have gone for more, regardless.) Even though the auction's over, it at least provides another tiny glimpse at the line.
Rodarte for Target Lace Top [eBay] [Nitro:licious]
Read more posts by Amy Odell
Filed Under: ebay, leaks, rodarte, target
Filed under: Uncategorized
Comments Off
by Amy Odell on September 9th, 2009
Anyone who's anyone in fashion has a lower-priced line these days. Doo.Ri, Thom Browne, Thakoon, Comme des Garçons, and rag & bone, to name a few. Jil Sander now designs for Uniqlo. Anna Sui's Target collection launches in mere hours. Jimmy Choo's H&M line launches in November. Rodarte is also doing a Target line to launch later this year. Lower-priced clothing is like the Noah's Ark of fashion, saving designers from the flood of premature discounts and unemployment contributing to depleted disposable incomes. The next to board will probably be Narciso Rodriguez, who is in talks with eBay to do an eight-piece collection with prices ranging from $75 to $350. Rodriguez says the partnership would bring his work to a wider audience. Though eBay is routinely sued by fashion companies for making counterfeit pieces available to the public, Narciso is happy to use the auction site for a lower-priced line since they have a ton of money and can pay him on time, unlike the many designer boutiques struggling to pay for orders in the downturn. Though it's pretty difficult to imagine Narciso pieces for sale under the campy rainbow eBay logo.
Dotcom couture [NYP]
Read more posts by Amy Odell
Filed Under: affordable things!, designers, ebay, narciso rodriguez
Filed under: Uncategorized
Comments Off
by StyleRumor.com | Fresh Fashion News Daily on September 9th, 2009
The Manifesto is already taking over the streets of New York City.
Related posts:Costume National & Shinique Smith Fashion's Night OutWanna go to NYC Fashion Week for free?W Hotel The Store Fashion's Night Out
Related posts:
Filed under: Uncategorized
Comments Off
by Shannon Mahoney on September 9th, 2009
Who What Wear have recently launched a book. If you haven't heard about it yet, I'm happy to share some fun information with you about the book. We worked with Who What Wear before to bring you an amazing Louis Vuitton giveaway and ever since then, we've been keeping one another up to speed with the latest and greatest.
For those of you who follow all things and everything fashion related you might already know that our friends over at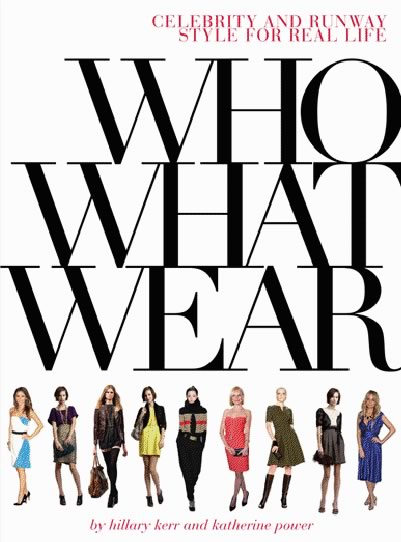 As you can imagine, the book is filled with just about anything you might want or need to know about what's fashionable these days. However, as you also can imagine, acquiring that fashionable look could come with a hefty price tag. Well, the book not only teaches you about how to pull off some of the most sought after looks, but also how to get those looks for less! Using both celebrity and runway examples, the book offers its readers the tools needed to update their personal style, not matter what it might be. There are even helpful hints from celebrity contributors like Nicole Richie and Rachel Bilson. Order it through Barnes and Nobel online for only $15.16!
Filed under: Uncategorized
Comments Off
by Perez Hilton on September 9th, 2009
Warning: possible spoilers below.
And the plot thickens!
There may be a Sex and the City 2 wedding in the works and it ain't Samantha's!
Supposedly there's an elaborate wedding scene taking place in Connecticut with the guest list including the girls plus Stanford Blatch and his parents!
Rumor has it that Stanford and Anthony Marentino are tying the knot with Liza Minnelli as the entertainment!
Oh, we LOVES this!
And here's another juicy tidbit, although it hasn't been confirmed yet:
Miley Cyrus might be making a cameo appearance!
It's Slutty's dream come true!
[Image via WENN.]
Filed under: Uncategorized
Comments Off
by Megs Mahoney Dusil on September 9th, 2009
We first brought you news of Bird Handbags over two years ago. The ritzy hippie vibe appealed to many and we were digging the designs. The Lady was a favorite (I still wear my Lady often) and the One Night Stand Clutch followed closely behind.
Net A Porter is carrying another version of the Bird Handbags One Night Stand with a natural colored snakeskin body and brown ostrich double handles.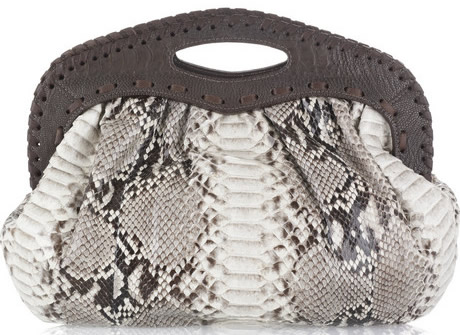 The clutch is chunky and large, grabbing your attention from the first look. The price of handbags from Bird Handbags seems extraordinarily high. While this clutch is oversized, the price nears $2k for a mostly python clutch. For this price, I will be setting my sights on a larger everyday bag rather than a large clutch. This is a design that is perfect for the gals that dress very LA; casual, laid back, but chic. But the price will hold me and I am sure many others back. Buy through Net A Porter for $1810.
Filed under: Uncategorized
Comments Off
by Amy Odell on September 9th, 2009

Grace Coddington on a photo shoot in The September Issue.
The New York Observer reports McKinsey consultants are preparing to exit Condé Nast and could submit their final recommendations to Si Newhouse as early as September 16, the second-to-last day of New York Fashion Week. They are likely to recommend that magazines like Gourmet and Bon Appétit publish fewer issues a year. From what the Observer writes, it also sounds like they're questioning why Details even exists, since it's basically the same thing as GQ but with cover typeset that looks stuck in the seventies and more space between lines of text inside the magazine.
In The September Issue, Anna Wintour has no problem killing photo shoots that cost hundreds of thousands of dollars. But McKinsey consultants will likely recommend Condé Nast not spend that much to begin with.
"There are little ways of cutting," said one staffer, who drank a bit of the McKinsey Kool-Aid. "You don't need to send an entire posse to Joshua Tree for a shot in the desert! Who cares! If the photographer is good, and the clothes are good, the models are good, it's fine — you can shoot downtown."
We'd argue downtown is not a suitable substitute for a desert landscape, when, say, you want to do something amazing-looking like this, but a lot of that scenery can be Photoshopped nowadays. Maybe they should pay retouchers to do that instead of cleaning up bony kneecaps and elbows.
Yet despite the downsizing, it sounds like Condé Nasties are enjoying their new consulting friends. Because, as one anonymous staffer put it, "They're kind of hot." (It's true — we've experienced sexy consultants in a non-work setting.) Also, young and plucky! The Teen Vogue girls are reportedly coming to work in their good outfits on a daily basis. Because you know, it's not often a flock of straight, wealthy, put-together young men with good salaries hang out at fashion-magazine offices. And Fashion Meets Finance events only occur a few times a year at best.
At Condé Nast, the Last Days of McKinsey [NYO]
Read more posts by Amy Odell
Filed Under: bon apetit, conde nast, details, gourmet, gq, mckinsey, obviousness, teen vogue, vogue
Filed under: Uncategorized
Comments Off
by The latest WWD Headlines on September 9th, 2009
Eran Elfassy and Elisa Dahan presented a sexy collection of supple leather jackets, feminine trenches and travel-ready nylon "packables."
Filed under: Uncategorized
Comments Off
by Megs Mahoney Dusil on September 9th, 2009
Louis Vuitton has partnered with artist Camille Scherrer to present the new "Louis Vuitton : Art. Fashion and Architecture" book. The book will be available in stores this Friday, September 11th. Now you can watch the animated movie of the book coming to life above.
Filed under: Uncategorized
Comments Off
by Perez Hilton on September 9th, 2009
CLICK HERE to find out!!!
CLICK HERE to find out!!!
CLICK HERE to find out!!!
Filed under: Uncategorized
Comments Off
Next Page »